Blog
HOSPITAL INDEMNITY POLICIES: WHAT YOU NEED TO KNOW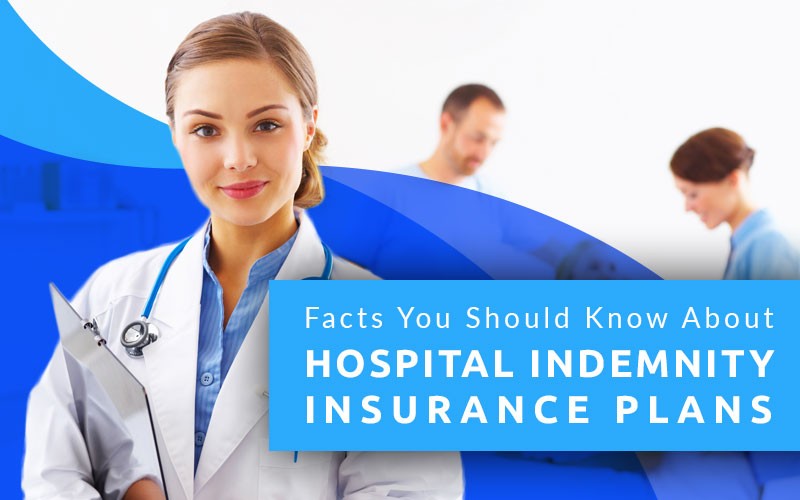 Why do I need health insurance?
No one plans to get sick or hurt, but most people need medical care at some point. Health insurance covers these costs and offers many other important benefits. Health insurance covers essential health benefits critical to maintaining your health and treating illness and accidents Health insurance protects you from unexpected, high medical costs.
Does health insurance cover a hospital stay?
Most health insurance will cover a hospital stay to a certain extent, but even the best health insurance coverage will have limits. You may still find yourself responsible for costs your insurance doesn't cover, particularly in the event of a long hospital stay or one requiring specialized treatment.
You might especially consider hospital indemnity insurance if you:
Have a chronic condition that may require hospitalization
Have an upcoming procedure that may require hospitalization
Are pregnant (or plan to be) and need coverage for additional days following childbirth
Have a health insurance plan has a high deductible
Work in a high-risk profession where you may need hospitalization after an accident
Do I need hospital indemnity insurance?
Here are a few reasons to consider hospital indemnity insurance: You have a chronic condition, like heart disease or diabetes, that could lead to hospitalization. You have an upcoming procedure or surgery where a visit or stay in the hospital could be required.
Should you buy hospital indemnity?
There is never a good reason to buy hospital indemnity insurance at any age. But this is particularly true for anyone on a Medicare Advantage Plan. First, you should only purchase insurance to protect yourself from a catastrophic financial loss. While $5000 (or even $7500) might be difficult, it is unlikely to drive you into bankruptcy.
Health insurance is hardly a one size fits all industry. Different people need and want different coverage based on their lifestyle and what they can afford.
Based on this and additional personal factors, people choose to enroll in various coverage plans. One policy type that someone might choose to opt into is hospital indemnity coverage. Let's discuss the details regarding hospital indemnity coverage, who needs it, how much it costs, what it covers, and more.
WHAT IS HOSPITAL INDEMNITY INSURANCE COVERAGE?
Hospital indemnity insurance is a supplemental coverage option that supports the financial aspect of your health coverage.
Hospital indemnity insurance is intended to cover the costs of hospital stays and emergency care that are not otherwise covered under a typical insurance plan. If you do have to take an unexpected trip to the hospital, you pay a fixed cost, instead.
Depending on the type of plan you have, hospital indemnity insurance benefits can go toward:
Deductibles

Coinsurance

Transportation

Medication

Rehabilitation

Home care costs

Various recovery expenses
This coverage can be sponsored by your employer, a government plan, or by a private insurer like Elliot S Glass, MBA MA - Licensed Insurance Agent. Contact Elliot today to get a supplemental hospital insurance plan....
WHAT DOES HOSPITAL INDEMNITY INSURANCE COVER?
Hospital indemnity coverage may vary slightly from one plan to another. However, hospital indemnity insurance most commonly covers the following:
ICU stays

Critical care unit stays

Outpatient surgery

Continuous care

Outpatient x-rays and laboratory procedures

Outpatient diagnostic imaging procedures

Ambulance transport fees

Emergency room

Physician office visits
Generally, hospital indemnity plans have lower premiums compared to other insurance, but depending on your coverage, can increase.
WHO NEEDS HOSPITAL INDEMNITY INSURANCE COVERAGE?
The age-old adage, "accidents happen," is around for a reason.
Accidents can't be predicted or prevented, hence why they're accidents. In some cases, however, certain people may be more inclined to need consistent hospital health services.
A hospital indemnity policy is a worthwhile benefit to have for someone who frequents the hospital or if you can afford the security that hospital indemnity insurance provides.
Oftentimes patients may be surprised and overwhelmed by the bills and financial responsibility that follow a hospital stay. At SBMA, we believe it's better to protect your finances with additional coverage.
Consider hospital indemnity insurance for individuals with the following:
Chronic conditions that can lead to hospitalization (i.e. heart disease)

Upcoming surgery that could lead to extended hospital stays or care

Women who are pregnant or expect to become pregnant (hospital indemnity can cover additional days spent in the hospital after childbirth)

Peace of mind knowing there is coverage in case of an accident
Although emergency services can create a financial burden, patients can have peace of mind now with the No Surprises Act protecting from surprise medical billing. Read on to learn more about The No Surprises Act.
HOW MUCH IS HOSPITAL INDEMNITY INSURANCE?
There isn't a fixed cost to this insurance policy. The cost of a hospital indemnity insurance policy, however, depends on a few factors:
The insurance company

Your age

Your sex

Your geographic location

Deductible amounts
Forbes found that on average, hospital indemnity insurance premiums can range from about $50 to $400 a month. Additional research found that the average 3-day hospital stay costs about $30,000.
IS HOSPITAL INDEMNITY INSURANCE WORTH IT?
It depends on who you're asking.
Investing in hospital indemnity insurance can be worth it—depending on your health, lifestyle, and future plans.
Ask yourself the following when deciding whether or not to add hospital indemnity insurance to your existing coverage:
How healthy are you?

Consider the likelihood that you or a loved one will become hospitalized.

What does your current health plan cover?

Look at your current healthcare plan to identify what it does and does not cover.

Can you afford the medical costs if an accident occurs?

Forbes

found that "over 36 million people in the U.S. are admitted to a hospital every year, many of whom may not be prepared for the cost."
Answering these questions will help you decide if hospital indemnity insurance is worth it for you.
WHY SHOULD EMPLOYERS OFFER HOSPITAL INDEMNITY INSURANCE TO EMPLOYEES?
Employers who offer hospital indemnity insurance to their employees add value beyond salary—without affecting their bottom line.
As employees consider the widening job market available to them, offering a competitive job opportunity that includes healthcare benefits and hospital indemnity can make you an ideal employer that attracts and retains the best employees. After all, 60% of employees rated benefits as very important in contributing to job satisfaction.
Other benefits of offering hospital indemnity insurance to employees include:
Increasing employee retention

Increasing employee productivity

Increasing teamwork and organization

Improving overall

financial savings

for employers and employees
---
‹ Back