Blog
What You Need to Know About Final Expense Insurance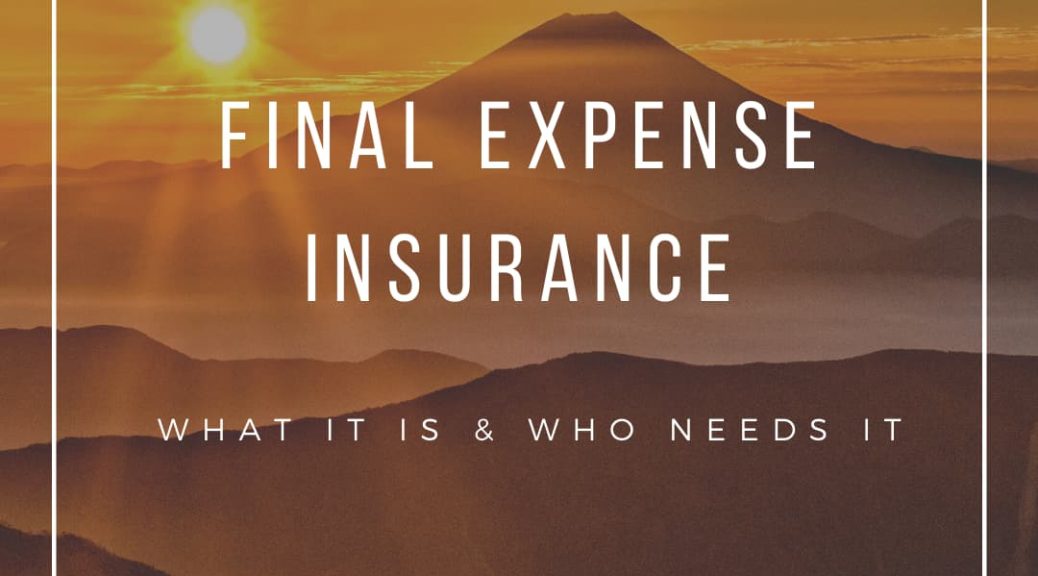 As Ben Franklin famously wrote in a 1789 letter, "In this world nothing can be said to be certain, except death and taxes." Mr. Franklin, of course, has a point. However, the similarity between death and taxes doesn't end with this certainty. Both of these inevitabilities leave bills that must be paid. The famous statement has also been subject to a game of historical telephone after centuries of misquoting. (Aren't you more familiar with the abridged version, "Nothing is certain but death and taxes"?) Not only has the quotation been garbled, it's been mistakenly attributed to both Mark Twain and Daniel Defoe.
There's another lesson here: No one likes being misquoted, especially when it comes to their final wishes. Writing something down, even something as final as a last will and testament, doesn't ensure it will be remembered or interpreted correctly. That's why many people choose final expense insurance or other funeral insurance. While a will may not be found until after funeral services have occurred, final expense insurance makes sure funds are allocated and available for your family when they're needed. Let's take a look at why this insurance is important and the difference between plan types.
Why Your Final Expenses Could Be More Than You Think
Year after year, the price of laying our loved ones to rest has increased across the world, with the median cost increasing almost a third over the past 10 years. The rising prices have been noted by more than just the families who are left to pay the price.
A Forbes article explained that monetary inflation and increasing overhead costs in the industry are partly to blame for growing sticker prices on funerals. Funeral services were once held in the home of the deceased. Social shifts toward privacy and sanitation moved final rites to dedicated areas, driving up operation costs. A gradual move in the funeral market toward large corporations and away from local businesses also increased those providers' profit margins. A larger business network means lower costs when services can be streamlined, resources pooled, and supplies bought in bulk. However, those savings haven't historically trickled down to the customer.
Funeral Costs: What to Expect
National Funeral Directors Association statistics give a breakdown of the cost of average common funeral types. The findings show that an average funeral can cost $7,360, but the price can be as high as $8,755 when you add a vault, which many cemeteries require. Note that not all online calculators account for all needed charges, such as casket, urn, or burial plot. That's why it's important to ask questions about potential extra charges if you choose a prepaid plan—and to consider them if you select final expense insurance.
The estimates listed here do not include additional charges for flowers, obituaries, grave plot, or monument or marker costs. These numbers also do not include cash advance fees, which can further increase costs when funeral providers use third-party vendors. We've broken down the estimate into two types: burial and cremation.
Choosing a Burial Plot
One thing we haven't discussed much is selecting a burial plot. It can be easy to focus on the funeral-specific costs of burial, but unless you choose cremation, you'll want to include a plot or other burial rights in your planning. Here are some things to know about this portion of your final expenses.
Know your rights. Unless a cemetery also sells funeral services, they aren't covered by the FTC Funeral Rule. Look into whether your state has burial-specific regulations. Most states don't, so do your research and be familiar with all your options before you begin shopping.
Make sure all costs associated with your plot are accounted for—you'll often need to cover more than just the plot itself. Expenses to watch out for include a grave liner, perpetual care, maintenance/grounds keeping or an "endowment care fee." Those laid to rest in a mausoleum or columbarium may also need to include opening/closing charges or maintenance fees in their estimates. Get these charges in writing as part of an itemized list before making your selection. A business' hesitancy to provide this should be a red flag for how you'll be treated in the future.
Take time to find out what is and isn't allowed in the place you choose to be sure the type of monument or memorial you prefer is permitted. Some cemeteries may also have regulations against flowers or other items left on graves.
If you select a prepaid plan over final expense insurance, wait to buy burial rights until you're sure you won't move or decide to opt for cremation. Selling a burial plot you no longer need can be a challenge. As with your other expenses, allocating funds for a burial plot with final expense insurance leaves your plan flexible.
Funeral With Burial:
Metal Casket: $2,400
Basic Services Fee: $2,100
Vault: $1,395
Embalming: $725
Facilities/Staff for Ceremony: $500
Facilities/Staff for Viewing: $425
Hearse: $325
Removal or Transfer of Remains: $325
Miscellaneous Preparation: $250
Printing for Memorial: $160
Service Vehicle(s): $150
Funeral With Cremation:
In 2015, the NFDA projected that cremations would eventually become more common than traditional burials. Some families opt to hold memorial services and viewing prior to cremation. Other families, however, choose to hold their remembrances after cremation, letting the urn symbolize their loved one. The median price of funerals with cremations is $6,260. As with the above estimate of services with burial, this number does not include cash advance fees or cemetery monument or marker costs.
Basic Services Fee: $2,100
Cremation Casket: $1,000
Embalming: $725
Facilities/Staff for Ceremony: $500
Facilities/Staff for Viewing: $425
Third-Party Cremation Fee: $350
Removal or Transfer of Remains: $325
Urn: $275
Miscellaneous Preparation: $250
Printing for Memorial: $160
Service Vehicle(s): $150
---
‹ Back